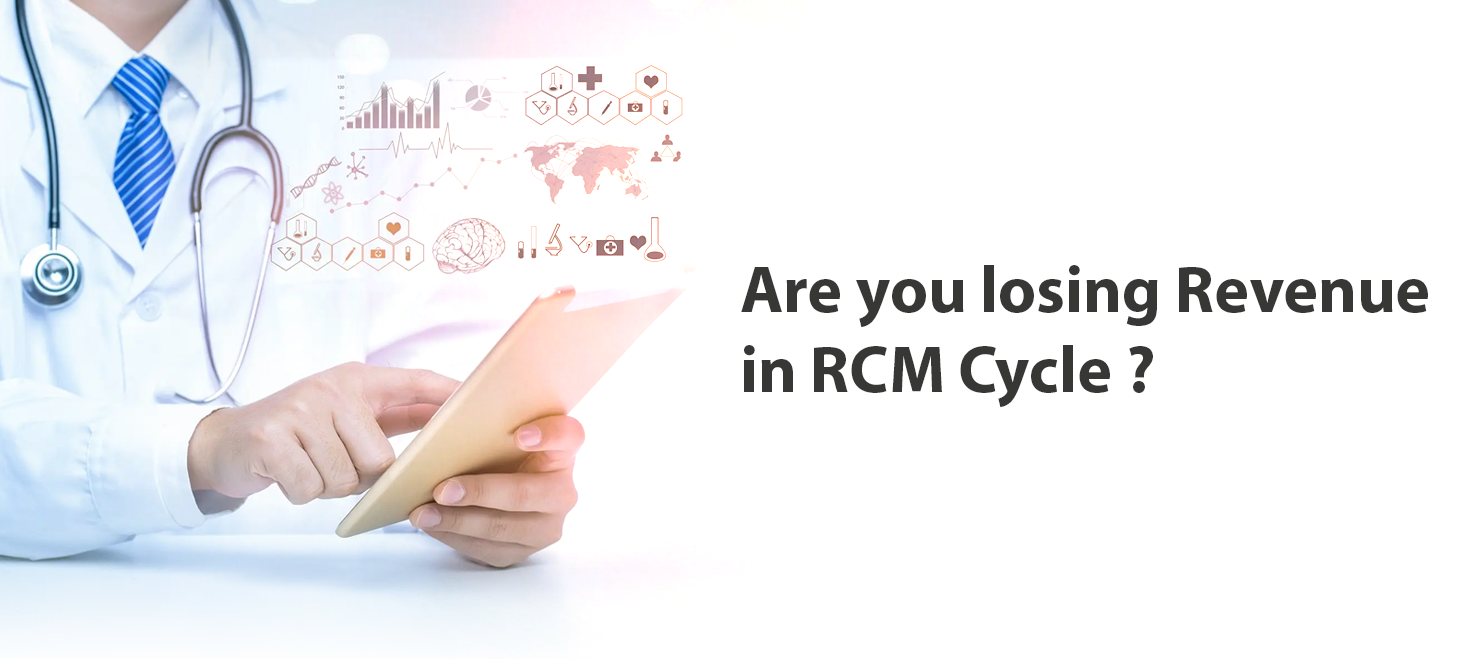 Are you losing Revenue in RCM Cycle?
Seven factors why you are losing revenue in the RCM cycle:
Are you a successful healthcare provider yet struggling to streamline your revenue cycle? Does your organization have the right skill set and bandwidth to objectively assess your revenue cycle processes and comprehensively identify potential pitfalls? It's evident from many reports that the underperforming revenue cycle pushes doctors to leave several million unnoticed around the corners. But, why is it so?
Being successful in healthcare can't be justified just with outstanding patient care. In such an ever-changing environment, where codes and practices keep updated more often getting the most out of RCM cycles is a challenging task. You may need to pin down several questions to streamline an underperforming revenue cycle. Let's present the seven crucial factors that have a drastic impact on your RCM cycles and let's try to decode the potential areas you could improve in this article.
Revenue cycle management (RCM)
Before diving into details of factors why you might be losing potential revenues in RCM cycles, let's try to understand RCM better.
To be precise, the revenue cycle represents a complex business interaction with patients that facilitates many touchpoints, including insurance verification and both point-of-service and after-service collections.
Revenue cycle management in healthcare (RCM) is a business process that enables healthcare providers to be paid for providing services. In most cases, RCM plays a wide range of pivoted roles right from pre-registering a patient all the way through payment collection. Time management and efficiency play a significant role in successful RCM, and a health organization's choice of EHR can be largely streamlined on how their RCM was implemented.
Revenue cycle management
You might ask, why should one really care? We've heard you.
Irrespective of the size of a practice, hospital, or health system, failure to optimally prioritize RCM and revenue collection efforts can have huge impacts on growth, increase operational risk and create an uncertain financial future. Thus solid attention must be given to the financial solvency of the business to ensure a hospital or medical practice can potentially survive in next coming years.
Now let's try to decode the seven factors why you're losing revenue in your RCM cycles.
Factor 1 – Dispatch
"If it isn't documented, it didn't happen." – This can be the right analogy to proceed with our discussion.
Completely documenting a patient's care at the right stage can improve outcomes in the revenue cycle down the line. Clinical Documentation helps in creating a thorough record of the diagnosis(es) made, symptoms observed, treatment procedure planned and executed, care provided, the outcome of treatment, and clinical assessment of the entire treatment process.
Failure to document service or use of vague descriptions can result in being paid less than an organization may be entitled to for the provided services.
So no matter small or big, document details & win the surge in revenues.
Factor 2 – Hospital & clinics
 Holes with authorizing non-emergency clients in prior can also guide you to loops in RCM failures. Usually, facilities fail to cover non-emergency clients which are common but not encouraged to do so. If you count such occurrences you might be surprised by the potential loss it could tragically lead to.
Factor 3 – Enrichment & coding
Are your clients satisfied with your services provided? How do you measure such KPI's to track your progress? If you fail in projecting those in the right elevation, chances are high that you're messing up justifying the correct level of service. Wait, what leads to that?
Improper documentation again. Yes, flawed documentation leads to misjudgments in processes, and results are centralized to meet your expectations.
Factor 4 – Billing
Billing errors and the resulting patient miscommunication further complicate the revenue cycle. Make sure to document all collection efforts and the outcomes of those efforts in your practice management system, using the financial notes section. This will help anyone in the facility to check the status of an account and easily respond to patient questions directly without many dependencies.
Factor 5 –  AR follow up
It's a matter of fact, shifting costs brings new risks. Many patients do not understand the complexity of these new plans and are shocked by the huge bill. This leads to all the future conflicts and affects client satisfaction. Well! It's more obvious that denials can push your healthcare system deep into revenue loss and it's always better to approach the best AR follow-up practices to overcome denials and drive revenue profits.
Factor 6 – Reporting and analytics
Are you making use of the right tools and tracking insights of your processes? Do they have a direct impact on your RCM cycles? Exactly, not utilizing the maximum potential of tools to capture & chart actionable insights is a huge hindrance in terms of revenue growth in RCM cycles. Communicating with data-driven insights thriven via analytics could support you in making timely and informed decisions.
Factor 7 – Patient engagement
Patient engagement between the point of service and the billing unit can be a tight blocker. Lack of user-friendly means for patients to interact with insurance claims & pays results in a drop of patients, which in turns result in potential losses in revenues. having patients engaged, either preventatively or during the course of treatment can help you with drastic results in streamlining processes. This could eventually free up resources, space, and time that the facility can be putting elsewhere.
Conclusion:
As RCM becomes increasingly complex, gaps in your process can result in significant revenue loss and cash delays. In such an ever-changing challenging environment, it's purely a necessity to put the right team into practice and conquer potential outcomes. We at BBS have significant experience and expertise in extending medical services such that you can relax focusing on treatments, and continue to excel as you scale.
Our wide portfolio of supports include,
✔ Medical Billing & Coding
✔ Insurance contracts,
✔ Consulting to fully outsourced RCM.
Exciting right? Yes, get packed by outsourcing your needs right away with us. To know more about us, head over to