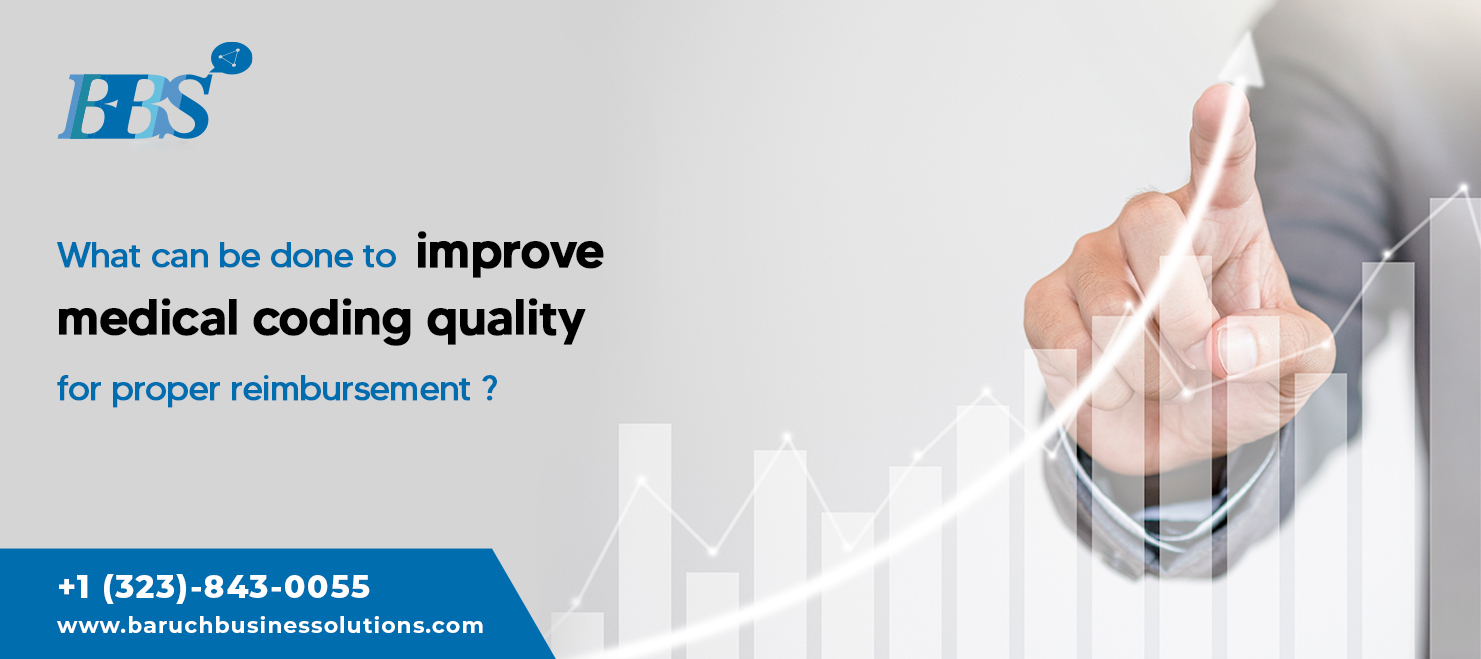 How To Improve Medical Coding Quality For Proper Reimbursement?
To ensure proper reimbursement, what can be done to improve medical coding quality?
Although the medical coding process often gets overlooked, it is an essential part of the healthcare revenue cycle that, when done insufficiently, can have an impact on every step that follows. To ensure that claims are processed quickly and reimbursements arrive on time, high-quality medical coding is crucial.
Medical coding has become increasingly more vulnerable to revenue loss and decreased revenue due to recent events like the COVID-19 pandemic and the increase in value-based reimbursement. Some challenges with the quality of medical coding arise from the fact that many coders work remotely, but both in house and remote providers can still ensure quality and maximize reimbursements.
Inefficient coding practices, backlogs and a shoestring budget are sure to have an effect on your organization's bottom line, especially if you are dealing with inefficiencies, backlogs and a slim staff. The impact of medical coding on revenue cycle performance is on the rise; therefore, improving your coders' work environment, finding appropriate topics for training, and maximizing available technology can all be beneficial.
Do a thorough analysis of your coding department. It doesn't matter if you work as a one-person show or a multi-specialty team; the following tips will help you improve the efficiency of your coding operations.
1. Coding team is essential
Medical coding is typically handled by providers in small practices on their own. However, medical coding is more than simply selecting the correct codes and billing them. A medical coder must do research and apply payer specific documentation, choose accurate procedural codes, choose accurate modifiers based on clinical scenarios, appeal denials with the necessary information, and conduct coding audits to ensure compliance with payer coding guidelines. Due to inpatient care providers busy schedules,  they don't have enough time to stay current on payer-specific guidelines and coding updates. Thus, it's better to let a coding professional handle your medical coding.
2. Take Advantage of Advanced Technologies
Medical coding has been revolutionized by the use of Electronic Health Records (EHR). Bringing the paper-heavy process into the digital era brought about a dramatic change in the EHR software. In addition to the EHR system, there are also a variety of other technologies that can be employed to improve the quality and accuracy of medical coding.
With Computer Assisted Coding (CAC) solutions, you can increase the accuracy and quality of medical coding. It analyzes healthcare documents to determine which medical codes are suitable for a given document. It is no longer necessary to search through coding books when using computer-assisted coding software. Your coder will be provided with automatically suggested codes as soon as CCI and LCD edits occur, which will enhance accuracy.
3. Conducting Coding Quality Audits
Whether you are part of a small clinic, a large hospital, or a physician group, are you certain that coding audits are conducted regularly? Monthly coding audits can save your practice/clinic/hospital a great deal of money as well as time. Coding audits come in various forms, and some or all of them may apply to your organization.
It might be a DRG verification, an audit support for RACs, or an evaluation and management coding audit. In an organization, each of these has a particular benefit and role to play in managing health information. Perhaps you wonder why you should invest in professional coding audits when everything seems to be going smoothly already? It may be necessary for you to review whether your operations are running as efficiently as possible.
Because of the complexity of medical coding involved, niche practices may require more frequent audits than others. As well, conducting coding audits more frequently may be a good idea if your clinic has new medical coders or your coders work in a specialty that they aren't familiar with. Hopefully, this will help decrease the probability of errors that are likely to occur in these circumstances.
As a result of coding audits, providers and in-house coders can be educated about the errors that they make, leading to improved outcomes and fewer errors in the future. Having regular medical coding audits will significantly improve the quality of your medical coding team.
4. Transparency in Communication
The provider and coding team need to communicate constantly to ensure that all procedures are documented properly, that the coding is done correctly, and that no procedures are missed since they are non-billable. Coders should be notified as soon as possible of audit findings and changes to coding standards. As a result, coders can immediately modify workflows to improve coding quality. Coders also benefit from communication when so many coding updates are released, especially when so many changes affect coding.
There are usually several additions to codes every year, a few deletions, and revisions to others. We witnessed many changes to coding in the years 2020 and 2021, including changes to telehealth guidelines, the addition of many new codes for the COVID-19 vaccination and administration, and changes to all payer code sets. Coders and providers should work together proactively when such revisions happen to standardize coding processes.
5. Stay up to date on healthcare changes
Updates to the CPT, HCPCS, and ICD-10 are performed annually. Your coders should know and understand all the recent changes in coding, but now more than ever, it's crucial that they understand what effect value-based care and new reporting guidelines will have on patient care costs.
Among the many risk adjustment models around, Hierarchical Condition Categories (HCC) has been around for a long time but has gained in popularity since Medicare Advantage Plans began to require risk adjustment factor (RAF) scores. As of today, every coding leader, and any commercial payer, should be aware of it. HCC cannot be understood without a basic understanding of Risk Adjustment (RA) and vice versa.
BBS can assist you with any questions you may have!
Hopefully, the tips above will provide you with some ideas for transforming your coding department into optimal condition and ensuring you're prepared for today's challenges as well as the changes to come in the healthcare industry – all while improving your revenue cycle performance.
To avoid the adverse effects of inaccurate coding, it is essential to find a strategy that works best for your team and implement best practices.  You can rely on BBS expert billing team every step of the way so that you can focus on what's most important.
To know more enquiry : Baruch Business Solutions
For contact our billing and coding team today at +1 (323)-843-0055 (or) mail us at info@baruchbusinesssolutions.com