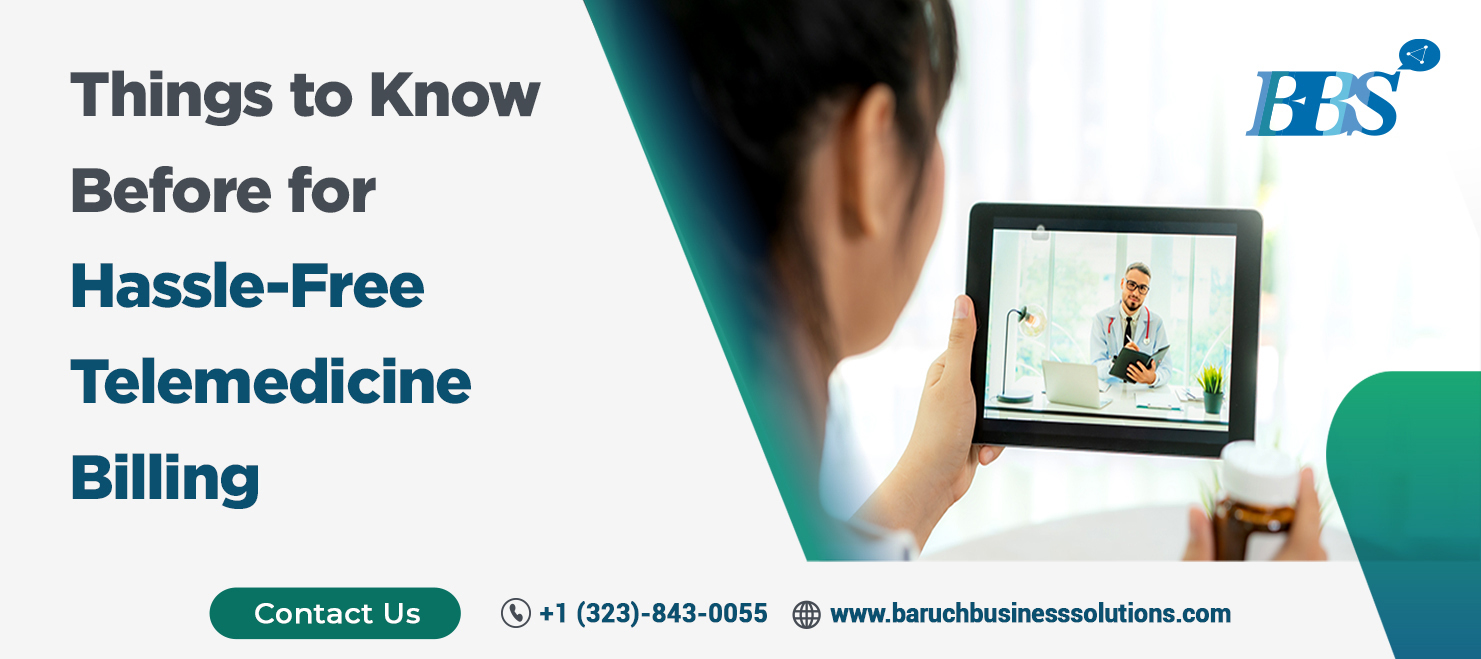 What Are The Top Things to Keep in Mind While Billing Telemedicine?
Telemedicine was once a cutting-edge form of medical care, but has become a popular choice among health care providers in recent decades. Telehealth adoption is growing faster than any other medical care solution, with an overall growth of 53% based on a recent report by the American Medical Association (AMA).
Medical billing has never been easy when it comes to telemedicine. The telemedicine process is now changing almost every day as a result of the Covid-19 pandemic situation, making it extremely difficult for the billing and coding staff to keep up with everything. The medical billing associations and councils are still drafting guidelines for telemedicine billing.
In the meantime, medical billers and coders are searching for answers to their queries right now to make the billing process smoother. As an example, how does telemedicine get billed? How should telemedicine reimbursement claims be processed and what codes should be used? If there are any restrictions, what precautions should be taken? There are several such questions weighing them down.
As telemedicine becomes more mainstream, it will ideally be able to be billed clearly by all payers.
We have compiled a short list of the top billing tips for telemedicine.
1. Check with the patient's insurance provider whether telemedicine is covered or not
Prior to the start of your telemedicine process, it is always a good idea to verify that your patient's insurance policy covers telemedicine reimbursement, especially before the initial consultation. Despite the fact that this will require a little extra work on your part, you will only have to do it once for this particular policy.
When calling payers, you should always have the telemedicine insurance verification form with you. It will be easier for you to document the representative's answers this way. Don't forget to write down the call reference number as well.
Using this information, you can settle the claim if the payer denies it later. The payer has to honor a telemedicine claim if the payer told you over the phone that the patient's insurance covered such care, and you have the reference number for the call.
2. Integration of Medical Billing Software with Telemedicine Platforms
Healthcare organizations can reduce errors, expand profitability, and expedite claims reimbursement with robust medical billing software that can customize both their billing and coding processes. Medical billing software can bring many benefits to your telemedicine platform, including:
Pre-registration is a time-saving feature when you implement medical billing software. This substantially reduces your time spent on paperwork since each new patient you onboard submits an intake form and supplies insurance-related information before their first appointment. The patient as well as you will save a considerable amount of time through this approach.
An automated medical billing software streamlines workflows so that claims are sent to another party as soon as possible. It allows healthcare providers to post outlays at the point-of-care so the filing process is streamlined.  A medical billing software not only accelerates the electronic claims process, but it also allows your financial team to update cash flow management activity on a periodic basis.
3.   Ensure you are aware of every insurance company's telemedicine guidelines
If you have to handle telemedicine billing with all the major payers (i.e., Medicare, Medicaid, and the private sector), the task can seem overwhelming. Simply contacting each payer and asking the right questions is the most effortless way to know what they need in telemedicine.
The following are some of the questions you should ask:
In what ways can telemedicine be used to provide healthcare?
Which healthcare providers can be billed for telemedicine?
What restrictions or requirements must patients meet before they can receive telemedicine?
Does a patient have to meet certain conditions for telemedicine to qualify, such as distance from the healthcare provider, written consent from the patient, established relationship between the provider and patient, etc.?
How many telemedicine visits can a patient receive over the course of the year?
Is live video telemedicine included in your policy?
4. Check with the payer to see what CPT codes are eligible for telemedicine billing
Most payers recommend using the appropriate evaluative and management CPT codes for telemedicine (99201-05, 99211-15) along with a GT or 95 modifier. You must remember as a healthcare provider that Medicare covers an extensive list of eligible CPT codes, and some private payers may insist that you use the telemedicine code 99444.
You will find this varies greatly depending on where your patient lives and who your payer is. Often, the easiest way to determine which code will be billed to a certain patient is to call the payer directly and ask them about it.
Ask them if the 99444 will be covered and whether you can use the E&M CPT codes with a modifier if they cannot provide you with a list of all the codes that will be covered.
5. Streamline and Boost Interoperability by Storing Data on a Central Repository
A cloud-based medical billing system is a state-of-the-art tool that can streamline billing for your telemedicine platform. It offers enhanced data security and cost savings across the board. A cloud-based billing system runs on a remote server and is accessible from any Internet-connected computer that is authorized to access it.
By purchasing one single contract, your organization can access all billing data, all at once, instead of purchasing contracts for each system at every location where your business operates, adding an additional layer of security and reducing overhead costs. A cloud based medical billing software solution can also give you access to data regardless of where your practice is located, if it is located across multiple locations.
Mobile devices can also be used by health care providers and other authorized employees to retrieve information anywhere, anytime. This greatly improves interoperability and improves the overall patient experience. A cloud-based medical billing service allows physicians and their staff to focus more time on patient care. Clean claims can be submitted easily, and payments are received quickly.
6. Ensure you know how to charge a facility fee
Facility fees aren't necessary to know for most providers billing telemedicine. The only exception is if your practice is affiliated with a telemedicine program that is billed through Medicare (or Medicaid sometimes), you should have a rough idea about how the facility fee is calculated and what it entails.
There is no facility fee unless it is paid to the local healthcare provider who hosts the patient during the virtual visit. For example, under the present-day Medicare telemedicine model, patients must come to an authorized originating location to begin their telemedicine consultation with a provider in another location. For the consultation to be hosted at the originating site, it can charge a facility fee.
Healthcare providers can bill the facility fee using HCPCS code Q3014. You can also check out the official Medicare website for more information on this topic.
7. Keep documentation up-to-date
There's no doubt that telemedicine documentation must meet the same standards as face-to-face documentation. Overall, telemedicine is an effective tool to assist your organization in expanding its patient base and increasing its bottom line. You won't be able to make the entire experience seamless until you make sure it doesn't act as a barrier and that your patients are comfortable in a virtual setting be it billing or connecting with them better.
Furthermore, ensuring that proper documentation integrity is maintained at all times is crucial when billing telemedicine consultations. From diagnosis to differential diagnosis, from risks, benefits, prognosis, instruction, treatment benefits, risk reduction, compliance, and coordination of care with other providers, if applicable, all this documentation should be included.
Outsourcing Telemedicine Billing is the Right Solution Even though telemedicine has been around for several decades, it has remained expensive and complicated to conduct remote telemedicine visits.  Telemedicine has gradually evolved over the years into a practical solution for all, especially as a practical solution for the current pandemic situation. With the introduction of fast, inexpensive internet and Smartphone's with high quality video transmission, telemedicine is becoming more practical and affordable for all.
It is undeniable that telemedicine is becoming more popular, but doctors and patients still have trouble understanding how to bill for the services. We at Baruch Business Solutions (BBS) can help you be hassle-free by managing your telemedicine billing process for you. 
To know more enquiry : Baruch Business Solutions
For contact our billing and coding team today at +1 (323)-843-0055 (or) mail us at info@baruchbusinesssolutions.com