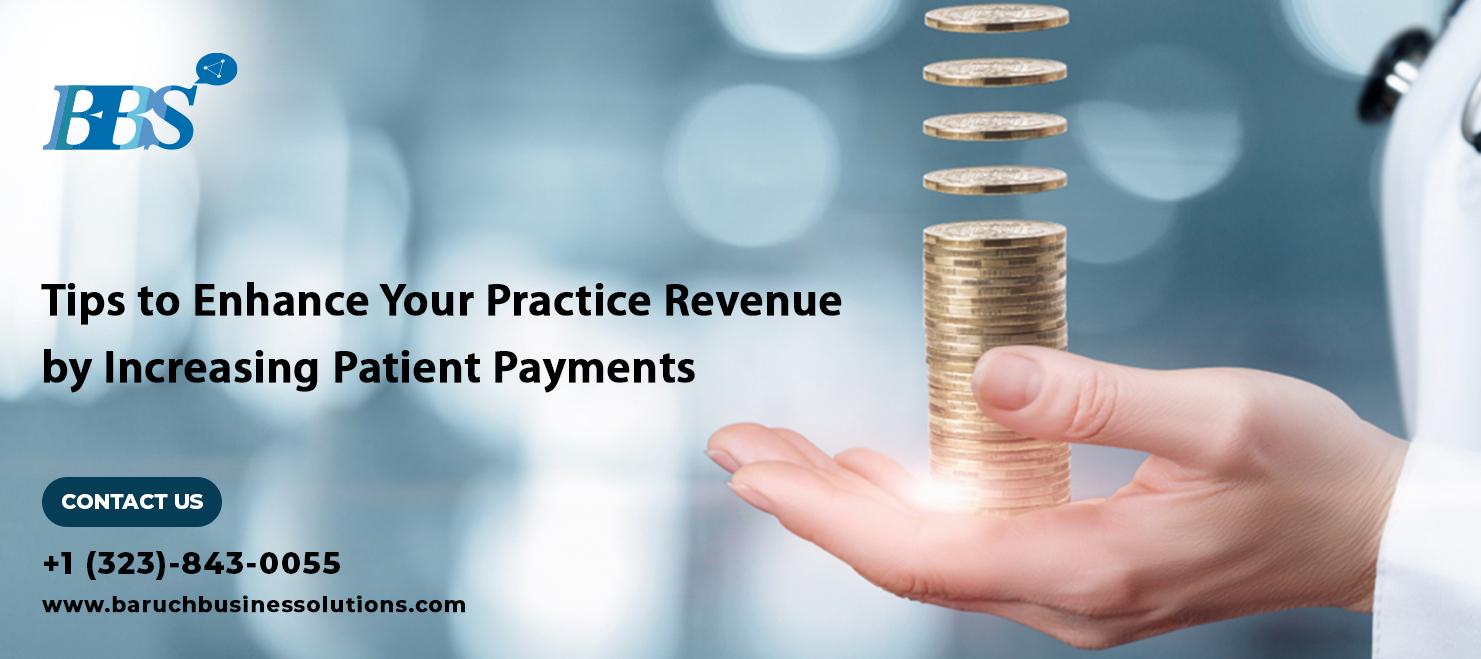 How To Increase Practice Collections In 5 Steps?
The responsibility of patients for their financial obligations is an essential part of revenue cycle management, but when patients fail to do so, doctors and their practices suffer the consequences. Since 2000, U.S. hospitals have incurred over $502 billion in uncompensated care expenses, according to a report by the American Hospital Association. Patient out-of- pocket expenses for health care have risen significantly in recent years.
Since patients now have more financial responsibility, providers must focus more on the patient collection and payment balances at this time. Health savings accounts and tax-advantaged medical savings accounts directly correlate with high dollar deductible health plans. Practices must also maintain current payer fee schedules, submit secondary insurance claims, and ensure correct coding to avoid undercharging patients.
Good communication and education are the key concepts of proven patient collection strategies.  These strategies could address one of the biggest challenges in patient collection, namely the fact that the cost of collecting money from patients is two to three times higher than that of collecting money from payers. Therefore, practices should avoid methods that result in ineffective statements and calls.
Here are 5 ways to make better your practice revenue by increasing patient payments.
1. Policy on Payment Arrangements
We should pay attention to payment policies.  In some cases, allowing patients to make time-based payments or offering discounted amounts may motivate the party responsible for the debt to pay it instead of letting it go unpaid. Working with uninsured and underinsured patients makes this task even more important. Patients usually can inquire about their accounts through a structured plan and request time-based arrangements. At the time services are rendered and in any other written or verbal communication with the provider, the payment arrangement policy should be generously disclosed.
2. Point of Sale (POS) Collections
A patient's financial responsibility can also be met by collecting money at the time of service. Staff registering patients must possess deep knowledge and skills so they can communicate with patients the amount due for the services they are receiving. It is important that registration staff gather demographic information about patients and communicate to patients the financial responsibility of services rendered based on those demographics. Practice owners who implement POS collections have more success in collections when the provider registers the patients.
3. Collection Notices and Patient Statements Design
A well-designed patient statement and information should clearly state the balance due for medical services. A patient statement should clearly provide them not only with information about their balance due, but also details about the services they have received, the provider of their services, the charges, payments, and adjustments, along with the contact information for inquiries regarding their statement. Patients are often not given enough information in statements to understand the charges they are being asked to pay. When patients understand how they relate to the services provided, you may have a better chance of getting a response.
4. Portals for online patient care
Providing patients with an easy way to pay their bills is becoming a common practice and is quickly becoming accepted. Patients of all generations, but especially younger generations, find online payment options and the use of modern technology likable. In the same way, as we discussed patient statements, user-friendly online patient portals that offer deep information about the nature of the patient's bill are also essential. In this case, it's equally important to use a patient portal that is HIPAA compliant and follows the highest standards of security, to protect the information of your patients.
5. Programs for following up with patients
In patient follow-up programs, there are more than traditional written communications. There are action steps to make sure the patient or guarantor is taken care of. Following up with patients based on an algorithm of factors that consider their propensity to pay is a key element of successful programs. This identifies where follow-up efforts should be directed. Generally, follow-ups are conducted once a month via phone and email.
BBS Is Your First Step to Growing Cash Flow And Patient Collections
With the help of a medical billing service, you can take the first step towards greater financial stability. By offering specialty-specific billing expertise, BBS services can help your practice boost revenue and meet financial goals.
Our dedicated staff members deal with back-office and billing tasks, rework denials and rejections in a timely manner, ensure claims are submitted correctly, and send patient statements and collection letters, among other responsibilities.
With BBS, you can protect your cash flow with a simplified solution that focuses on essential billing services.
Click here to learn more about us. Baruch Business Solutions