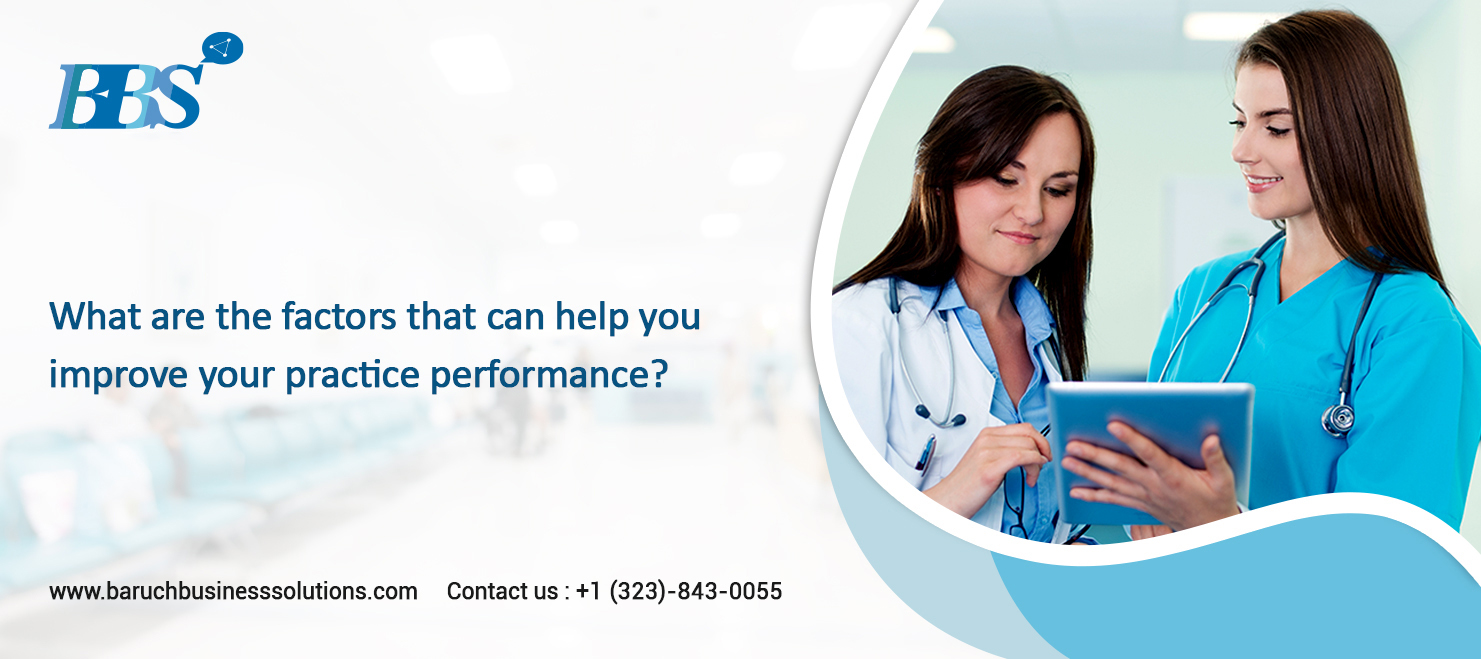 What Are The Factors That Can Help You Improve Your Practice Performance?
A practice's performance can be improved by knowing these factors
Making sure your patients receive the best care possible is very important when you run your own practice. What about your practice's ability to provide efficient healthcare to your patients? Is your practice in need of some rethinking?
You need to think about some factors while sustaining and expanding your medical practice, since you are indeed running a business. You can apply the same principle to the management of your practice.
There are certain challenges to expanding your practice no matter how large your practice is, whether you are a pediatrician or a physician who practices multi-specialty medicine. You may not know that there are many ways you can improve and execute processes to make your practice more effective.
Know your priorities
Practitioners should first have a solid understanding of the financial performance of each process. In other words, experts said, the budget should be taken from the beginning rather than based on previous years' results. To identify gaps in each expense category, it is important to use both internal and external benchmarks. It gets a little technical here!
In order to improve the performance of your practice, we can simplify it by analyzing what factors need to be implemented.
"It is important to analyze history and identify factors that could lead to growth opportunities in order to build solid plans to enhance practice performance"
In general, growing your practice depends on increasing revenue. Today, the healthcare industry is experiencing an increase in competition, people are using so many methods to improve their performance and monopolize their niche market. In order to keep your practice profitable, you must address your practice's burdensome administrative and operational costs with all the tools at your disposal.
As we explain in this blog, several factors can have a significant impact on your revenue, and providing more time to focus on your patients will allow you to increase your revenue. While not all of these factors will work for every practice out there, most of them will. Take a look at each point and assess whether they fit your practice. For a better understanding of how to set up at your practice, let's look at the different options available.
Improved appointment scheduling
You and your patients both value time. An easy-going schedule will enhance patient relations and workflow. There is nothing worse than having to spend the whole day in a clinic or hospital for a single checkup. Patients will often be forced to miss work. Patients who arrive on time will miss fewer days off. Being on time will also allow you to serve more patients.
Scheduling an appointment is one of those activities that appears to be a fine balance of science and art. What would you do to ensure that your patient flow was not bottlenecked or long wait times existed? Can walk-ins be accepted the same day as appointments and how would you do this? What other ways could you improve business across the board?
Appointment software and systems that are trending will help you to schedule appointments more efficiently.
Create a strong online presence
You are falling behind and out of touch if you still do not have a social media presence and practice website. Seventy-two percent of patients seek medical advice on the internet, and sixty-two percent rely on online reviews to help them find doctors. Without your presence on the Internet, your patients will have trouble finding you.
Getting your practice online and optimizing your profile online can be achieved by hiring a digital marketing agency. It will be helpful to you to get more business if your patients leave fine reviews.
A Telemedicine Service
In order to improve your practice, you need more patient hours. It is possible to increase your patient numbers by scheduling more appointments after business hours. Patients find it convenient and useful to use telemedicine. With telemedicine, your patients can easily schedule appointments. It is true that you may lose some work-life balance due to telemedicine, but you will gain more experience as well as earn more revenue.
Encourage your employees
An organization's most valuable resource is its staff. Keep your employees happy with a strong corporate culture. Make sure you offer positive appreciation, encouragement, and rewards for your employees. Provide them with an opportunity to participate in practice operations, allow them to handle independent projects and patients, and try to give them a chance to grow. You can inspire your employees to work hard every day in many ways.
A Workflow for You
Primary care physicians see an average of 11 to 20 patients per day, according to statistics. An average of 20 minutes to a maximum of 30 minutes will be spent with each patient. The more patients you see, the more likely you are to burn out. Helping everyone you can feels nice, but it's possible to become so exhausted that the quality of your medical care begins to deteriorate. Many doctors find it exhausting to see patients every 20 minutes. In an hour, find out how many people you can meet while feeling focused and energized. By doing so, you will be able to formulate the best patient flow for your practice.
Concierge models are worth considering
In some cases, the concierge model may not work for practitioners, especially those with a high Medicaid population. Others may find that transitioning to the concierge model is a great way to increase their revenue while leaving some administrative stress behind. Adapting a concierge practice may not be easy, but it can pay off immensely.
Get Better at Patient Collection
Patient collections are now a headache for many physicians due to the increase in patients with high deductible insurance plans. Over 20% of physician revenue comes from patient co-pays, and yet most of the due amounts are only collected in 60% of cases. Think about hiring a medical billing company or collection agency if it's a large burden for your practice. By outsourcing your collection, billing, and coding functions, you can improve your collections strategy straightaway.
Payer contracts need to be renegotiated
Despite the fact that it is half way through 2021, few physicians have bothered to renegotiate their payer contracts. Renegotiating payer contracts can increase your fee schedule.
What steps can you take to improve your revenue schedule, and how can you implement them? Get a simple revenue model revolution for your practice by talking with our BBS Medical Billing Services team. Get ready for greater revenue and ROI. BBS is the perfect choice for your all-inclusive Medical Billing services.