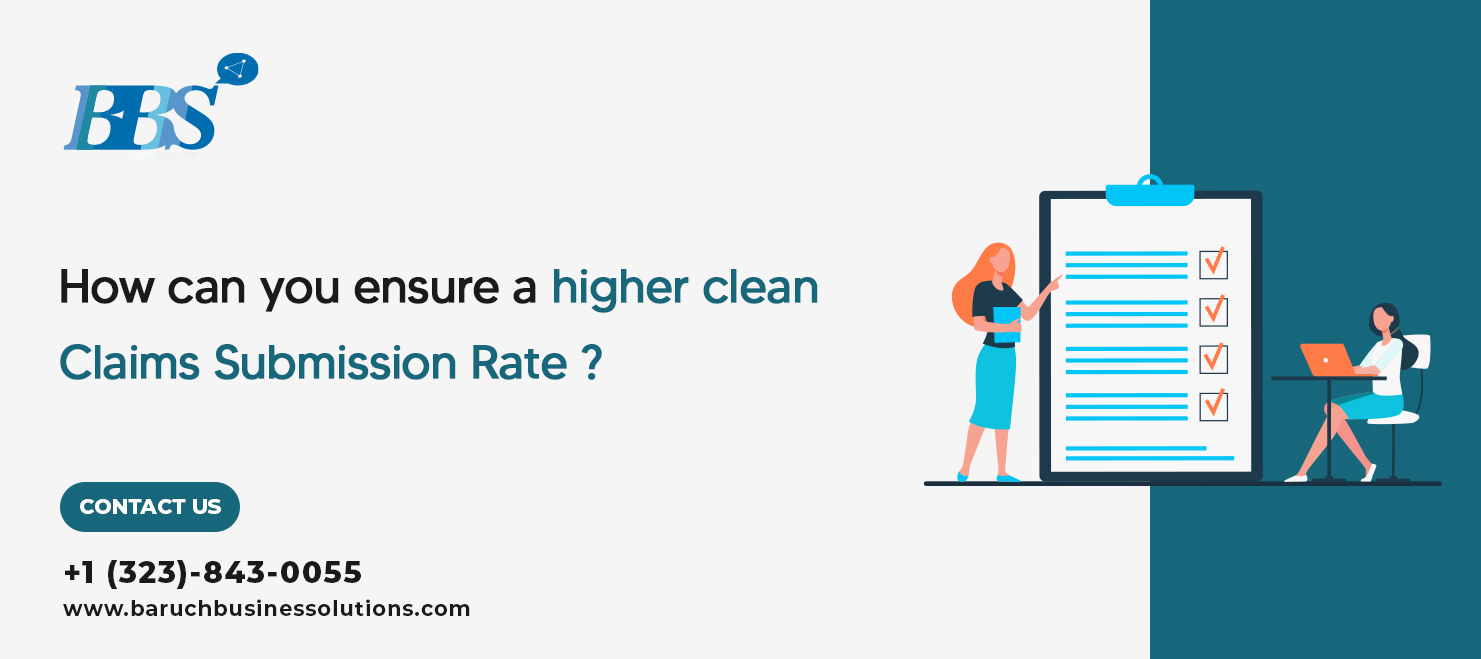 How Can You Ensure A Higher Clean Claims Submission Rate?
Are you aware of the number of claims your practice or centre submits daily to carriers? What percentage of those claims are paid at the first submission?
If you are denied a claim by a carrier, it accumulates in your account. Revisions must be made to these claims, denials must be identified, and actions must be taken to prevent a recurrence of the cycle. The submission process has to be done all over again, requiring a considerable amount of time and resources.
This is why it is essential to get the maximum number of claims paid at the initial submission.
What is the impact of clean claims on healthcare organizations?
Your clean claims rate directly impacts the revenue generated by your medical practice. Having problematic billing and coding practices within your office could lead to delayed or denied claims that would be disastrous for your practice.
Your practice loses valuable time and money when claims are not paid with the first submission. Rejected claims are often resubmitted multiple times and their errors are not resolved or corrected. In addition, this created the possibility of further revenue losses when a rejected claim needed to be reworked after the deadline for timely filing had passed.
Claims that were inaccurately submitted could also have legal consequences. It is possible for your medical practice to be flagged for potential fraud and abuse if too many claims are improperly filled out. False claims can result in thousands of dollars in fines for your medical practice.
By ensuring accurate billing and coding, you can ensure your medical practice is safe from fines and inefficient billing practices. What steps can your practice take to achieve a clean claims rate of 95%? The good news is your practice can implement several medical billing strategies to help improve your clean claims rate – and your overall revenue cycle management!
In medical billing, what does 'Clean Claim' mean?
Submission of clean claims is an important component of a financially successful medical practice. The term "clean claim" in medical billing refers to claims, forms, and fields that have been filled out accurately and clearly. Claims that conform to legal policies and have complete and accurate documentation always receive timely payments.
Only 5% of claims get submitted to payers with no errors when they are first submitted at a medical practice with a clean claims rate of 95%. As a result, there are no delays in payments or denied claims, meaning reimbursement goes much more quickly.
An average percentage of claims paid at the first submission defines as the clean claim percentage. The profitability of a surgery center depends on keeping this percentage high in times of tight resources and time constrains. To ensure an optimal percentage of clean claims, how could you build a continuous process?
We have listed 6 tips to help you achieve a clean claims submissions percentage over 95%
1. Stay up to date with patient information
It's vital to have quick access to patient information including contact information, insurance carriers, and more. In order to avoid denied claims due to inaccurate patient data, patients should confirm or update their current information before receiving services. Use detailed documentation to avoid delays and have patients update their forms at every visit (or even sooner with automated reminders) in order to verify patient information in advance.
2. Check eligibility before service
The established patient is one who regularly visits your practice. Your staff may also assume that these patients have not recently changed their insurance plans. However, most denied claims can often be attributed to outdated established insurance information. At least five days before a patient's scheduled service, collect and confirm their primary, secondary, and tertiary insurance coverage. Confirm any in or out-of-network benefits, copays, or deductibles at the same time.
3. Medical records should be documented in detail
Making sure you have the most detailed medical information possible can also help boost your clean claim rate. Information such as procedures, case histories, medication histories, etc. must be properly documented. Using these documents as supplemental records can help speed up the processing of claims if necessary.
4. Be aware of insurance claim filing deadlines
Claim submissions usually require submission within a short window of time. Claims submitted outside of that window are more likely to be denied. The best way to ensure your practice has a near-perfect clean claim ratio is to pay attention to claim deadlines. If issues arise before the date of service regarding patient coverage, resolve them so claims aren't submitted late. An ideal time for authorizing is between three and five days prior to the service.
5. Comply with the coding guidelines of the carrier
The CPT and ICD compatibility must be verified, and the submission process can either be paper-based or electronic. To verify coding compatibility, create local coverage determination guidelines specific to each carrier. In addition to building customized rules engine software systems, centers can also collaborate with companies providing this service to automate the claims scrubbing process.
6. Verify modifiers twice
You should make sure you have applied your modifiers correctly and to the right procedure when using them. Create a guideline of custom NCCI edits for reference to help ensure the process is done efficiently.
BBS Medical Billing Services will help you increase your clean claim rate
With the right insurance billing practices, most medical practices can achieve a 95% clean claims ratio. In your practice, maximizing clean claims and reducing delays and denials is possible by optimizing your medical billing processes.
Are you seeking to enhance your revenue cycle management and profitability in an already challenging healthcare industry? Outsourcing your billing to an expert medical billing company is one of the best ways to increase your clean claims rate. Thus, your medical practice will be able to receive payment on time by avoiding delays and denials.
We would be pleased to provide you with more information about how outsourcing your insurance billing with a medical billing company, like BBS, can support your healthcare practice. Having the right billing experts on your team will give you the opportunity to create a customized solution that meets your specific practice billing needs so you can achieve the clean claims rate you deserve.