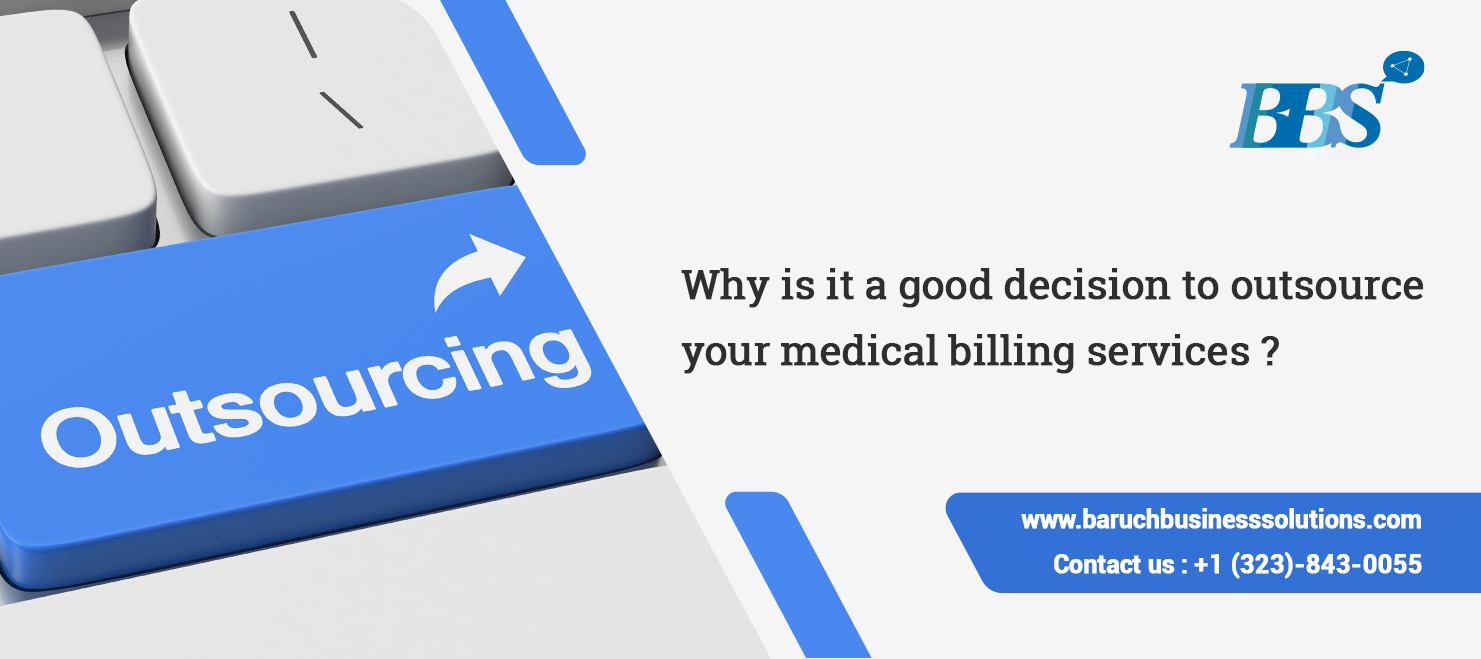 Why Is It a Good Decision To Outsource Your Medical Billing Services?
There is no longer anything new about medical billing outsourcing. This approach is now widely accepted. With its streamlined processes, superior systems, state-of-the-art technologies, economies of scale, knowledgeable and experienced workers, it typically results in larger cost savings and outcomes.
Managing medical billing and coding successfully is proving to be a strategic advantage for healthcare professionals in today's complex and evolving market. Outsourcing medical billing and coding is proving to be a good trump card for doctors, hospitals, and practice managers.
HIPAA compliant healthcare and health plan processing firms like Baruch Business Solutions become the ideal choice for hundreds of American physician offices, family practices, clinics, hospitals, and billing firms.
Medical billing outsourcing is certainly more than a cost-cutting measure.  Discover  why  outsourcing medical billing is among the best financial moves you can make for your practice by reading this comprehensive guide.
How Do In-House & Outsourced Medical Billing & Coding Differ?
The amount paid by payers varies due to a number of factors, even though both in-house and outsourced billing teams submit the claims for reimbursement. Both of these factors present a challenge to any practice interested in enhancing its revenue – making it necessary to make an intelligent choice.
Billing location is the most obvious difference between them. In-house teams work on site, whereas outsourcing involves hiring third parties who work offsite. A few other factors to be considered are
Management of the Processes
Your medical practice would certainly be in full control and ownership of medical billing if you had an in-house billing team. Meanwhile, outsourcing medical billing services would free up your in-house staff to focus on providing your patients with quality care.  Therefore, determining the right billing partner requires weighing all of the facts, since there is a lot of trust involved.
Resulted in a reduced error rate
It is more likely that in-house billing teams will make billing errors at a higher cost when it comes to medical billing and coding. In the healthcare industry, this could negatively affect your reimbursement rates. Outsourcing medical billing companies can prevent these unnecessary costs and losses. You can rely on their expertise and years of experience to handle your billing and coding tasks accurately and without any errors.
Healthcare Billing Expertise
Even if you have an experienced in-house billing staff, your outsourced billing partners can alleviate your practice's stress when it comes to medical billing and coding. The onshore medical billing companies are not only solely focused on billing, but also constantly updating themselves to keep up with regulatory changes and the impact on your practice. With these companies, you can be assured of 100% compliance, meaning your healthcare practice will receive the most accurate billing processing.
Outsourced Medical Billing Companies – why do you need them?
You have to choose the right outsourcing partner when it comes to outsourcing medical billing and coding. By selecting the right outsourced billing team, you can improve your revenue cycle management in a controlled, yet sustainable manner. Outsourcing your medical billing services is really beneficial to your venture because of the long-term viability they bring in to expand your medical practice.
Outsourcing medical billing allows your practice to keep consistency and control its finances regardless of changes in patient numbers, staffing levels, and other factors. By outsourcing your medical billing, you can reap the benefits for your entire practice on a long-term basis.
An enhanced level of clarity
It is often thought by many medical practitioners that outsourcing medical billing to a billing company near them is like giving up control of the RCM. Do you think that is connected with reality in any way? Upon signing a contract with a medical billing outsourcing company, they commit to earning positive marks for your business on a set of carefully defined metrics. You can find 100% payments, denial rates, collection ratios, and much more. It is also their responsibility to provide you with accurate data on the actual results of their efforts.
It is always a good idea to work with an outsourcing medical billing company that will provide you with timely and comprehensive performance reports. Also, they will keep you informed if there are delays with insurance payments. In other words, you can control your practice's revenue cycle management without micromanaging it. Hence, they provide you with complete revenue cycle management transparency.
Save money by reducing costs
You may not be aware that having an in-house medical billing team entails lots of hidden costs. It is quite expensive to have an in-house team as you need to pay for insurances, training, payroll, and hardware and software installation costs to enjoy the exclusive benefits. In contrast, outsourcing your medical billing will result in a significant reduction in fixed expenses.
In reality, medical practices often lack the money or the time to hire an entire billing staff. Sometimes, they have difficulty finding a replacement when employees are on leave. With a long-term approach towards revenue cycle management, you can gain more control over your practice by outsourcing these tasks.
Less medical billing errors
It is true that billing errors and other inefficient collection policies can severely impact your revenue. Quite often, your claim will be denied if you make one small mistake. Errors like incorrect authorizations, duplicate billing, invalid patient information, and other billing and coding errors can be costly, resulting in a huge revenue loss for your practice.
You can make your practice more profitable if you outsource medical billing services. You will get error-free billing of your office when you hire the right billing experts. Thus, partnering with such experts will streamline your practice workflows and reduce human error while increasing revenue.
Outsourcing medical billing tasks at the right time is important
Although change may not always be easy, there are various benefits to accepting it, including outsourcing medical billing tasks. A crucial question is now raised when should one accept this change? What is the best way to know when you should consider outsourcing your medical billing work?  Whenever your medical practice shows these signs, you should go in for outsourcing medical billing companies immediately.
Stress in the workplace
Is your in-house team capable of meeting the needs and caring for the patients in a timely manner? Are your medical staff members feeling overwhelmed by the amount of work they have to do every day? Have you noticed a higher turnover of staff?  How about asking yourself these questions about your in-house staff before all of this?
If not, then you would need to review them, and If yes, then outsourcing would be necessary. In addition to avoiding unnecessary administrative stress, the proper outsourced medical billing company can reduce burnout among your in-house team. Thus, you and your team are now able to shift from a revenue-focused strategy to one centered on patients.
Regularly delaying payments
If your practices still faces delayed or less or no payments despite training your staff continually regarding the updated billing regulations, outsourcing is the most efficient solution. By making such a decision, you can relieve your stress of timely claims review process to your outsourced medical billing company. You can expect a higher rate of clean claims from an experienced medical billing company. It is evident that delayed billing payments indicate the necessity for medical billing and coding services to be outsourced.
Reduction in revenue
If your medical practice's total revenue is below the industry median, you should consider hiring an outsourced medical billing company. Optimizing your revenue cycle management is one of the most crucial steps you can take to keep your doors open to patients. Outsourcing your medical billing and coding will help you achieve this easily. With the help of an expert medical billing company, you can increase practice revenue over and above industry average.
Your Medical Billing Process is in the hands of the experts at BBS! Features that make BBS a right choice
HIPAA Compliance
Expertise in Accounts Receivable
A wealth of Experience
Well-trained employees
Transparency & Efficiency
The medical billing services we offer at BBS are tailored to meet your practice's needs. Our team not only handles your billing, but also ensures that you retain more revenue by maximizing your management potential. To get their practices on track, some practices require only credentialing and contract management, while others may require a complete revenue cycle management. Our medical billing and coding services will fulfill all your needs.