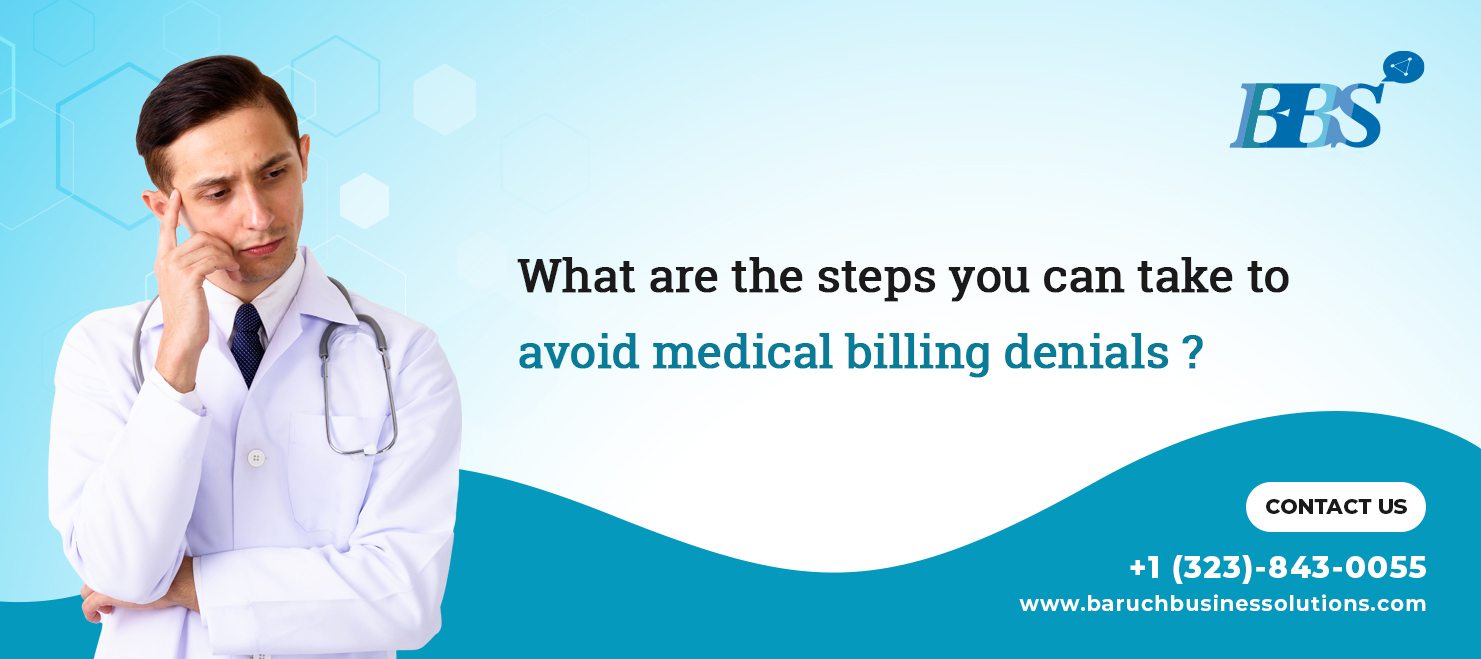 What Are The Steps You Can Take To Avoid Medical Billing Denials?
Taking These Steps Can Help You Avoid Medical Billing Denials
The focus of healthcare providers is on two things: delivering the best possible care to their patients and getting paid. Receiving timely and complete reimbursements is difficult with denied claims. You will need additional workforce to appeal denials, which can be time-consuming and expensive. It may slow down your billing department's productivity if they spend time reviewing and resubmitting claims.
Denial of a claim can cause a negative effect on your facility, as it reduces cash flow, delays payment for your services, and disrupts the productivity of your team. The fact that these billing errors and mistakes frequently happen can lead to physician burnout, leaving patients waiting for proper care as a result.
Denials of medical billing are frustrating for healthcare providers. Those denials eat up your revenue and negatively impact your bottom line. The repetitive processing of it results in diminished cash flow due to the time and effort spent on it. Medical practices are therefore required to ensure that they have accurate medical billing. Find out the common reasons your claim is denied and how to prevent it from happening again by reading on.
Follow up on each claim
In your practice management system, you must ensure that none of your claims are lost. Make sure to track all your claims carefully. You should implement an integrated process to track claims throughout the entire revenue cycle if you discover any discrepancy. Many claims get lost in the shuffle because they cannot be dealt with as quickly as they should be.
You have to make sure your coders are coding each patient encounter before the next business day, or at least one day after the service date. Furthermore, invest in technology that can perform scrubs, submit claims, and monitor them with minimal employee effort.
Identify the "Why" behind your claim denials
It is impossible to lower your denial rate unless you understand why your claims are being denied. Identify the related reasons for such denials by reviewing all your claim denial notices from a defined period, such as two or six months.
Most particularly, incorrect registrations, verifications, or identifications of patients or their treatment codes or diagnosis codes are the most common reasons for medical denials. They are traceable back to the person responsible, which is the best thing about them.
Be on time with your follow-up
The majority of medical practices do not even bother to follow up on the claims denials and to resubmit or appeal the corrected claims. It is your own responsibility to save insurance companies money if you are not in this subset.
After correction, most denials can be resubmitted within a specific time window depending on which payer denied it. Take note of the window based upon your major insurance payers and ensure you do not miss it. In fact, make it a priority for your billing department to follow up on each denial case within the next 5-10 days so that they can submit the corrected or appealed claims as soon as possible, if necessary.
Automated eligibility verification
Fewer medical practices also reject or deny patients due to ineligibility. Despite this, medical practices continue to handle eligibility checks in a non-sophisticated and unstructured manner. Most often, they call the payers right before or after the patient's appointment.
If you fail to check the patient's eligibility, your medical practice and patients will suffer. An automated pre-scheduled eligibility check can be performed with a cost-effective software tool. In addition, you can outsource the verification and other revenue cycle procedures to a reputable medical billing company that can handle the task efficiently and professionally.
Check your EOB & Remittance processes
Do you spend a lot of time incorporating the necessary information from remittances into your billing process? Are you still relying on the paper Explanations Of Benefits (EOBs)? When do your billing and coding teams reconcile their records with the latest technology?
Until you are aware of a denial, you cannot avoid it! If procedures are consistently delayed, you miss out on chances to resubmit claims and follow up on them in a timely manner. We recommend switching to electronic EOBs and streamlining the remit management system so that you'll eliminate human errors and save time.
Finally, how does BBS's denial management service can help you?
BBS is here to assist with all your denial management needs.
Despite constantly changing regulations and payer rules, many hospitals and practices lack the technology and staff capacity to manage denials effectively. A profitable and sustainable alternative to in-house denial management is to outsource it to organization which have dedicated denial management teams.
It is necessary to make sure optimal insurance denial management in medical billing by avoiding any of the reasons for denials. A medical practice with a busy schedule must put in a lot of effort to keep up with the latest medical billing procedures. An up-to-date collection system can often ensure more effective insurance denial management.
It is recommended that you follow the best denial management tactics or work with a BBS Medical Billing Service team. For all your medical billing and coding requirements, our certified experts can provide you with quality services at a cost-efficient rate with our RCM management services. We can help you transform your healthcare practice by leveraging our expertise and experience.